LiP Sunglasses was born out of a passion for riding waves – it's so central to our ethos that it's our namesake. Hitting the LiP and carving beautiful tracks down the line is as fundamental as life itself.
As with many other watersports, there are challenges to overcome to get the most out of the surf. We're often busting the surf gear out of the van just as the sun emerges on the horizon. First light is the best time to catch the cleanest waves, often with light offshore winds and no crowds. But at this time of day, the glare from the sun can be blinding and can ruin an otherwise epic session. The only solution we know to handle this glare is to wear polarized surf sunglasses.
However, using surfing sunglasses is not without its own unique set of challenges. Getting out back and taking your place in the line-up requires a series of duckdives or turtle rolls. The power of the waves would send regular sunglasses to the ocean floor in a flash during these manoeuvres.
Surfing Glasses Designed for Surfers
And then there is the ever-present UV radiation, a barrage of sea-spray, lens fogging and water spotting on the lenses that needs to be taken into account.
And then there are the hazards. Without clear vision there is a risk of collision and you could do yourself, or someone else, an injury. Without protection against UV rays, reflected glare and sea-spray you're setting yourself up for some eyeburn and possibly lasting eye damage in the form of pterygium (aka Surfer's Eye) or other eye conditions.
Just as importantly, you are unlikely to perform at your best if you're struggling to see clearly. These problems are all solved with high-quality specialised sunglasses for surfing.
Why suffer from eye fatigue if you don't need to? Part of the fun of surfing is actually enjoying surfing. It's hard to find enjoyment when your eyes are stinging. We know that pain. We've experienced red-eye for days after long sessions without surf eyewear. So, we've gone and done it! LiP Sunglasses has engineered surf eyewear that stands up to all these challenges: Our water sport sunglasses, Flo, Typhoon and Surge are the solutions you've been looking for.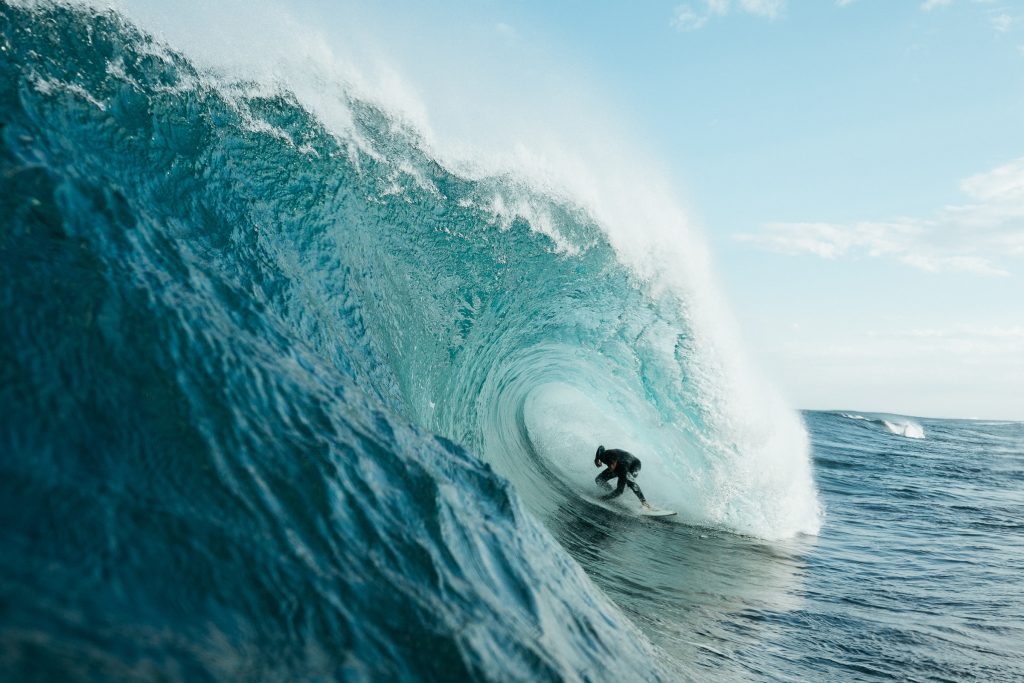 Our state of the art polarized surf sunglasses cut out 100% of UVA and B radiation and 99% of blinding glare. Hydrophobic and oleophobic lens coatings on both inner and outer lens surfaces keep your vision clear despite an onslaught of spray. A failsafe leash system will keep your surfing glasses tethered to you at all times, no matter how big the wipeout or how many duckdives you do.
Our watershades are also built to last with unbreakable 'shape-memory' TR90 frames that incorporate a patented venting system to counteract lens fogging. The Typhoon and Surge frames also incorporate soft TPU padding. This rubber padding acts like a fender to dampen any impact force and also serves as a comfortable interface between the face and the frame – which is great for extended sessions in the water.
When you can see better, you can play harder. With our sunglasses for surfing, you'll have specially designed eye protection to keep you surfing until the sun disappears over the horizon.
Which Surfing Sunglasses Are Best for You?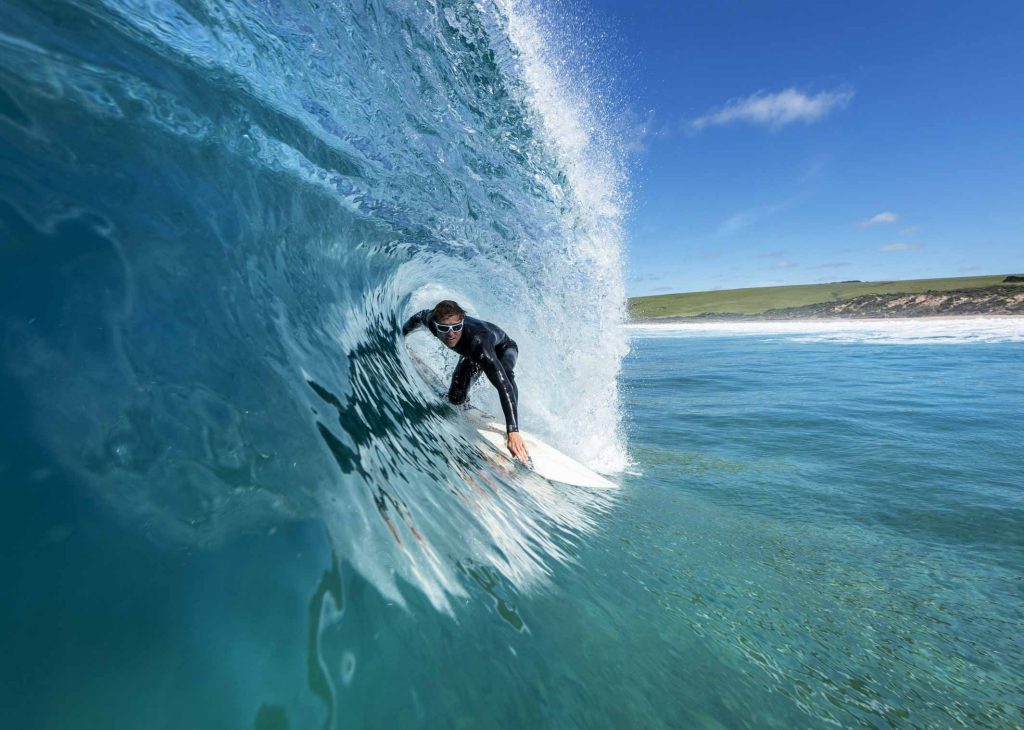 You know your sport best – and the conditions you like to surf in. Whether it's serene longboard sessions at sunset or overhead barrelling sets at full tide that give you a thrill, we've got the
surf glasses
to fulfil your needs. There are 3 watershades to choose from:
Flo
,
Typhoon
, and
Surge
, and each of these models comes with a wide selection of lens options including standard / enhanced contrast, polarized / non-polarized, photochromic and some with anti-fog coatings. We even offer prescription lenses. If you're into surfing or surf foiling in gentle waves, our
Flo
surf glasses
are a practical and lightweight solution. The Flo is our floating model that will sit on the surface ready to be retrieved if they happen to get knocked off in a bail or wipeout. Although the Flo does not come with a leash system, a simple retainer can easily be added for extra security. The
Typhoon
and
Surge
watershades are designed for bigger conditions where riptides, whitewater and currents demand a more resilient solution. Both the Typhoon and Surge incorporate a 100% guaranteed failsafe leash and retainer system, so even if they do get knocked off in an epic wipeout, you're not going to watch your investment sink! So if you're in need of
windsurfing glasses
, Typhoon and Surge might be the ones for you. We've teamed up with world-class lens manufacturers to bring you
surfing sunglasses
that are fit for purpose. The Surge and Typhoon lenses incorporate a patented venting system to counteract any fogging that may develop, and a few of our lenses incorporate an additional anti-fog coating. All watershades have hydrophobic and oleophobic coatings (water repellent and dirt repellent) – meaning that water beads up and falls away leaving your vision clear to read the water or spot someone about to drop in on you.
Get the Edge of Your Competition With our Surf Eyewear
Surf glasses
needs to be robust and built to withstand extreme forces and the harsh ocean environment. Our watershades all meet this essential standard – which is why we can offer a market-leading 3-years warranty. We passionately believe that our eyes demand the utmost care and deserve nothing less than the best protection. Looking good on the waves shouldn't mean sacrificing our eye health. With our
surfing eyewear
, you can look awesome, protect your eyes, be hazard aware and be the first to notice and position yourself for an approaching set. We want to help you pick the perfect pair, so we have put together a
summary
of all of the essential considerations to make the wisest choice, including a lens tint guide, a guide on lens materials and their qualities and a guide on the visible light transmission rates for all of our lenses. We're confident you'll be impressed by the design and functionality of our watershades. You may have tried other
sunglasses for surfing
and thought "these are not helping and are a waste of money". However, our
surfing sunglasses
are a game changer – a winning combo that'll have you unleashing your full potential on the waves. Not only are they functional and robust, they're stylish too. Head to the product page and have a look for yourself. Grab your pair of pro
surfer glasses
today. Set your sights higher and give yourself the best chance of nailing that barrel. Not only for surfing, our watershades are also perfect as
fishing sunglasses
, wakeboarding, or even
sailing glasses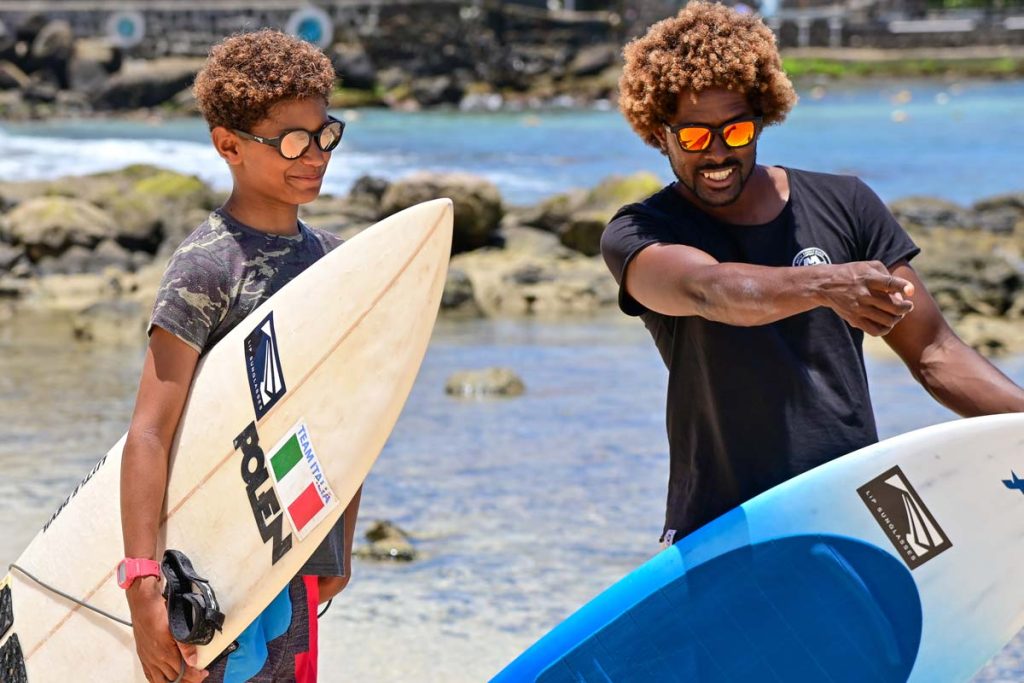 | Model / Functions | Typhoon | Surge | Flo |
| --- | --- | --- | --- |
| UVA/B Protection | Yes | Yes | Yes |
| Polarised Lenses? | Yes | Yes | Some |
| Hydrophobic Coating? | Yes | Yes | Yes |
| Oleophobic Coating? | Yes | Yes | Yes |
| Hard Coating? | Yes | Yes | Yes |
| Retention Leash? | Yes | Yes | No |
| Floating Frame? | No | No | Yes |
| Anti-fog Venting? | Yes | Yes | No |
Choose a Category of Surfing Eyewear
Standard Watershades
Prescription Watershades
SURGE: - "I bought these for my husbands birthday, so he did not have to look into the sun at dawn patrol. He loves them!!!"
TYPHOON: - " I like pretty much everything about them. Excellent for surfing; finally not losing my eye protection!"
TYPHOON: - "It does its job perfectly. They stay on, and there are minimal water droplets"
TYPHOON: - "How the water beads off the lenses and protects my eyes from the sun. I like the clarity of the lenses. When I take them off I automatically obtain a great sense of how bright the day is without them, so they provide great protection. They also don't get washed off my face easily by a wave. Comfortable glasses to wear."
SURGE: - "Comfortable, great vision, I wish I bought them 20 years ago"
SURGE: - "The unique support system to ensure that the glasses stay attached to me and don't float away is the best part. Also, the leash quality seems quite good too."
TYPHOON: - "My eyes can finally rest while surfing. Living in Baja Mexico makes the suns mid day glare intense. I was starting to have pain and burning in my eyes after a day of surfing. Now I can go all day no problem."
SURGE: - "Excellent helpful customer service and quality product that offers a solution for my light pigmented eyes to be protected during surfing."
SURGE: - "Great to be able to go out for surf in brutal sun when everyone else goes in and the lineup is less crowded."