Polarized Sunglasses for Fly Fishing
Spending your leisure time surrounded by nature and connecting with the great outdoors is one of the greatest gifts life has to offer. Not only does it allow us to take a step back from our busy work schedules and re-charge our batteries, it re-connects us with the mothership and reminds us of the beauty of the world around us. Fly-fishing has often been described as a natural stress reliever because fly anglers are unplugged from electronics, but plugged into the natural world. The reduction of stress leads to lower blood pressure and a healthier, more positive outlook.
Fly-fishing sunglasses may not be the first piece of kit you think of when preparing for your next fly-fishing trip, but there are a number of reasons why they should be. There are not only health benefits to wearing specialist fly-fishing sunglasses, but also performance benefits that can lead to better catch rates.
As fly-anglers we are often wading into the middle of a river or brook to find the perfect casting position from which to pursue our quarry. Surrounded by water in all directions, the direct and scattered UV radiation is ubiquitous as it reflects off the water surface. To protect our eyes from the cumulative effects of this damaging radiation, it is highly recommended to wear 8-base or 'wrap-fit' water sport sunglasses. Not only will this stop the UV rays leaking into our eyes from the sides, top and bottom of the frame, it will also stop visible light from reflecting off the inner lens surface and distracting our vision.
Sunglasses for Fly-Fishing
An exhilarating form of fly-fishing is fishing by sight – spotting a Trout in the shallows and then stalking it with a well-targeted fly is challenging and highly rewarding. Polarized fly-fishing sunglasses come into their own here as polarized lenses enable the angler to see through the water surface to see what lies beneath. Polarized sunglasses for fly-fishing also offer the added benefit of cutting out reflected glare which can be blinding especially in the first and last hours of the day.
With LiP Watershades you can get kitted out with the best sunglasses for fly-fishing – with polarized, photochromic or even polarized + photochromic lenses, a myriad of mirror finishes to suit your style and lightweight frames that are shaped to optimise your casting and catching performance.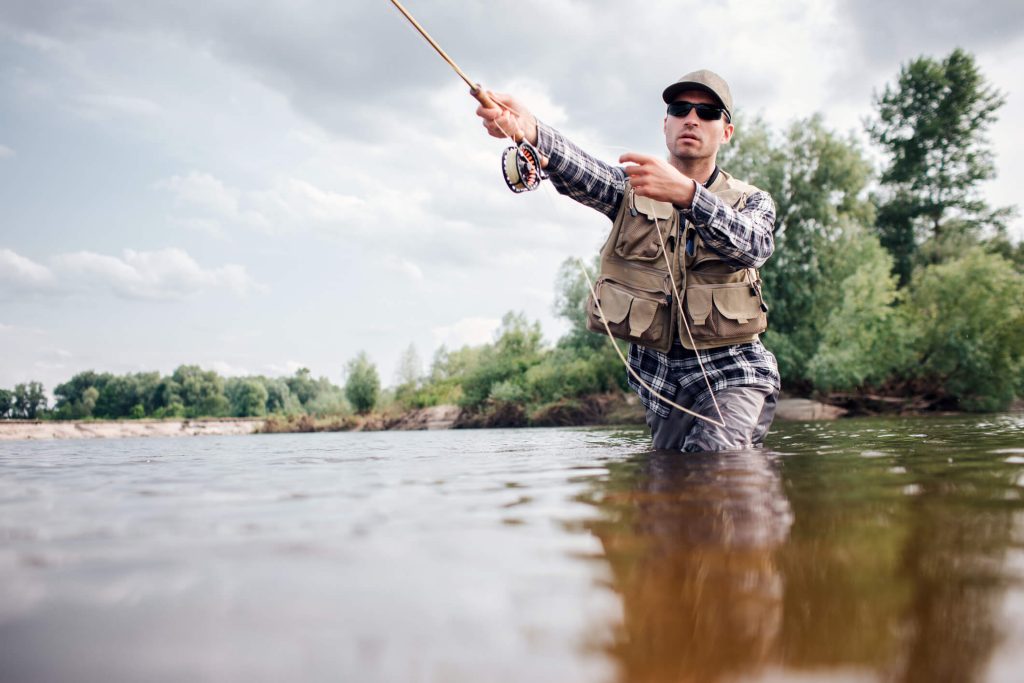 LiP Sunglasses for Fly-Fishing
We at LiP Sunglasses love our slice of freedom when we head out for a weekend with the fly rods, and we always take a quiver of sunglasses with us so that we are well equipped for any location or weather conditions.
The perfect fly-fishing polarized sunglasses depend on cloud cover, light levels, time of year, time of day, the type of fish we are stalking and even our mood. 
The lenses are always at the heart of our sunglasses, and here we make no compromises. We work with leading optical supplier ZEISS to offer a wide range of lens tints, performance coatings and mirror coatings to suit any fly-fishing environment. All of our watershades include a hydrophobic and oleophobic coating on both inner and outer lens surfaces to ensure crystal clear vision without water spotting at all times of day.
We offer three watershades that are uniquely suited for fly-fishing (1) FLO, (2) TYPHOON and (3) SURGE
The Flo model is lightweight, strapless, and indestructible. Owing to its Incorporated FLOT8™ frame technology, it is also unsinkable. It is ideal for lakes and streams with a gentle current and comes in a range of frame colours and lens options.
Our Typhoon and Surge models are designed for more technical fly-fishing in waters with a stronger current that could quickly put a distance between you and floating sunglasses. Both come with a failsafe retention system that works 100% of the time, so you don't need to worry about losing your favourite fly-fishing sunglasses if they get knocked off your head by a branch or your buddy's poor casting technique.
With all the state-of-the-art technology incorporated into our watershades, we're confident they'll last you for a long time and will lift your angling experience. And to make sure they do, we offer a market-leading 3-year warranty.
Choosing Your Fly-Fishing Polarized Sunglasses
Our
polarized fly-fishing sunglasses
are the way forward for fishing comfortably. Not only are your eyes shielded from the harmful effects of UV rays and the uncomfortable effects of reflected glare, but you also get a sneak peek under the water to find a great spot to cast your line To help you choose the best model for your needs, we've created a
basic comparison guide
showing the core features of the
Flo, Typhoon,
and
Surge
models. To help you decide on the most suitable
angling sunglasses
lenses for your frame, check out our
choosing your lenses
guide for a detailed look at all the options for our watershades lenses. We have also put together a summary of all of the essential considerations to make the wisest choice, including a
lens tint guide
, a guide on
lens materials
and their qualities and a guide on the
visible light transmission rates
for all of our lenses. And the best news is that our watershades are not only suited for fly-fishing, they are also suited to a range of other activities where water is involved –
jet skiing sunglasses
,
SUP sunglasses
,
sailing sunglasses
and more.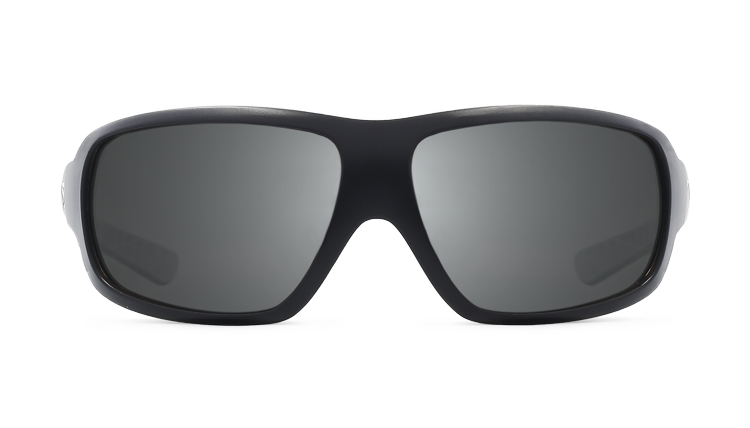 WATERHSADES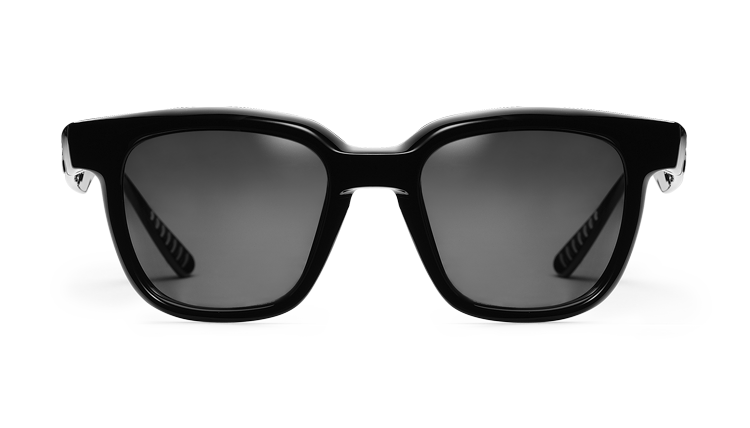 URBAN
| Model / Functions | Typhoon | Surge | Flo |
| --- | --- | --- | --- |
| UVA/B Protection | Yes | Yes | Yes |
| Polarised Lenses? | Yes | Yes | Some |
| Hydrophobic Coating? | Yes | Yes | Yes |
| Oleophobic Coating? | Yes | Yes | Yes |
| Hard Coating? | Yes | Yes | Yes |
| Retention Leash? | Yes | Yes | No |
| Floating Frame? | No | No | Yes |
| Anti-fog Venting? | Yes | Yes | No |
TYPHOON:- "Everything is excellent....the quality of frame and lens, the way they perform while doing windsurf ( even under rain conditions they protect you eyes from the drops )....I'm really happy with the product, service and your support."
SURGE:- "I'm out on the ocean on my SUP and the quality of the vision is great with massive glare reduction. Makes the sport so much more enjoyable and gives better quality of vision. Love the lanyard also."
TYPHOON:- "Recently had eye cataract surgery and have used expensive eyewear while kite foiling. After losing my third pair in 4 months, even with a leash attached I needed to find something better. The Typhoon so far has proven to be what I need."
TYPHOON:- "Perfect for kitesurfing. Frame / lenses / field view."
TYPHOON:- "I've only used them twice so far, but so far, they're awesome. I don't notice them at all while kitesurfing, which is great. One concern I had was that adding another piece of equipment with cords would be annoying or feel less safe, but that isn't the case. They stay put, and I don't have to clean or adjust them while riding. The only thing I notice is that I'm not blinded by the sun, and my eyes don't hurt afterwards."
SURGE:- "Clarity of the lenses and water just runs off them. I use them for kite surfing in the UAE where it's hot and the sun is bright, so sunglasses are essential. I have had plenty of crashes with these on and they haven't once popped off unlike other brands I have tried with similar systems."
SURGE:- "They stay on so well, they do not fog or get blurry when they are splashed, the lenses look great and are really comfortable! We are so happy!"
FLO:- "I have a very round face and it is hard to find glasses that fit into my eye socket snuggly to block wind without making my skin feel like its suffocating. These glasses solved both problems. No wind gets in my eyes when windsurfing, they are light and airy, and I don't feel the need to take them off to give my eyes/skin a chance to breath. The lenses are also very good - I can see wind lines crystal clear and, most importantly, my eyes do not feel strained after an afternoon on the water and in the sun."
SURGE:- "love how even after falling in the water, the sunglasses don't get fogged up! super nice!"
TYPHOON:- "The glasses didn't fall off during this winter's big swell. I duck dived and they stayed on and caught way more waves now that I can see past the sun's glare."
TYPHOON:- "Excellent service and product. They fit great, very impressed by the hydrophobic capacity of the lens."
SURGE:- "Great to be able to go out for surf in brutal sun when everyone else goes in and the lineup is less crowded."
SURGE:- "Fantastic watershades for kiteboarding. I am new to the sport and needed adequate eye protection. I love that I don't have to worry about losing them when I wipe out ;D! Highly recommend."
TYPHOON:- "Biggest wins: 1. does not fog 2. good visibility through the lenses 3. retention system works (at least so far)"
SURGE:- "Like the style and the build quality, and attention to detail. The neck ring and safety strap is a well thought idea."
FLO:- "The fit is firm, but comfortable. They cover all the eye area and look more expensive than they are."
SURGE:- "Excellent helpful customer service and quality product that offers a solution for my light pigmented eyes to be protected during surfing."
TYPHOON:- "Excellent fit and clarity. I did get a little fogging on one side after brief dunking but it cleared reasonably quickly once I got moving again. I was wearing a rubber hat that may have blocked the air flow a little. I have also used them on the SUP. In short they they seem great and appear to everything they say. Happy customer."
TYPHOON:- "They are great. Super light weight. Excellent fit. Bright view. Good hold-back-system. Enough airflow to get the water out of the eyes area while protecting them from direct water impact."
TYPHOON:- "My eyes can finally rest while surfing. Living in Baja Mexico makes the suns mid day glare intense. I was starting to have pain and burning in my eyes after a day of surfing. Now I can go all day no problem."
TYPHOON: - "Incredible sight with Zeiss polarised and great contrast - very strong attachment to the head - no fog up while in the water - no water in my eyes while wearing a helmet while kite surfing - amazing"