Understanding lens base colours
We are often asked to explain the differences between the colours of lenses we offer for our watershades, and what those differences actually mean when you are on the water.
Currently we offer a number of base colours for our watershades – the Typhoon, Surge and FLO. The options are smoke (grey), brown, rose and violet. Many of these base colours also have a mirror coating.
In general terms, grey base colour lenses offer a neutral tone with no colour enhancement and are ideal for people that like a standard tint to their sunglasses, while brown, rose and violet lenses all offer a level of enhancement. Colour enhancement tends to make colours 'pop', increases contrast and can further reduce eye fatigue in bright conditions.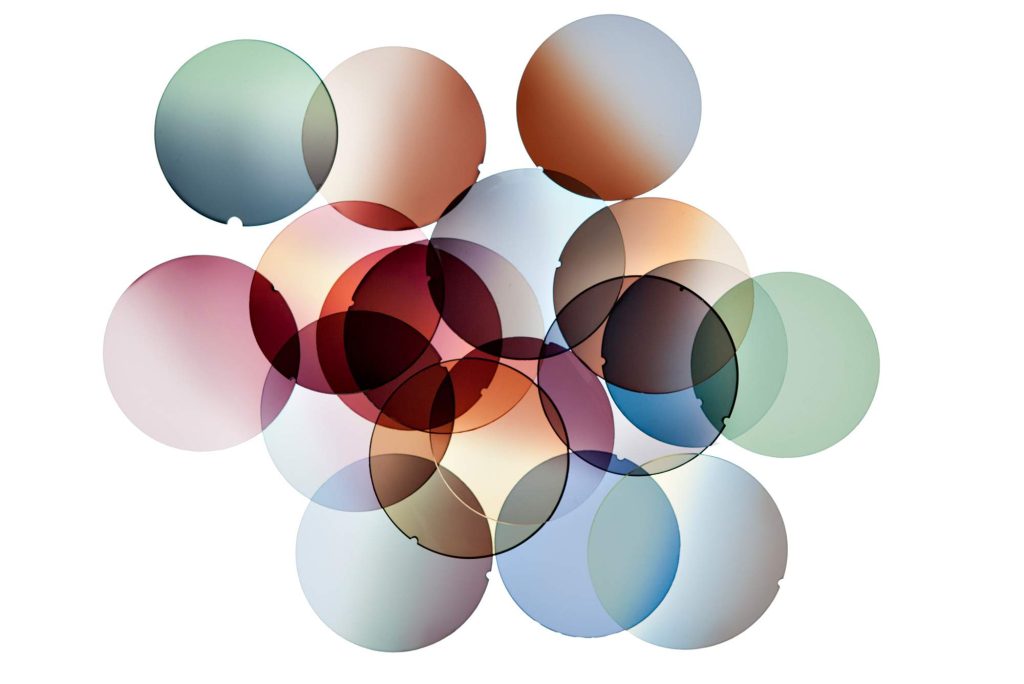 Making the right decision on base colour
The choice of which lens tone to choose will depend very much on your local weather conditions and the colour of the water. However, it is important to recognise that it is ultimately a personal choice, as colour perception varies from person to person.
Nonetheless, if you are unsure which lens tint to choose, we recommend brown, rose or violet base colours where the weather conditions are variable or where additional contrast and colour enhancement is desired, and smoke (grey) lenses where the conditions are bright and sunny.
Making the right decision can be a difficult call as often we encounter all sorts of weather and lighting conditions throughout the year.
Having a second set of lenses to handle different weather conditions can be very useful. You can buy a second set of ZEISS lenses / replacement lenses direct from our webshop if needed.
The relationship of base colour with mirror coatings
People sometimes confuse the base colour with the colour of mirror coatings. These are different things. For example, if you have a blue mirror coating, this does not mean that you have a blue tinted lens or blue base colour. It means that there is a blue coloured coating that has been applied on top of the base colour.
A good example is the Typhoon with Gun Blue lenses, pictured above. The base colour of the Gun Blue lenses is grey with a blue mirror coating layer applied on top.
Are there any benefits of Mirror coatings?
Surprisingly, there are quite a few benefits in addition to style and aesthetics.  Taking the Typhoon with Gun Blue lenses as an example, the grey lens tint will give the wearer a true and neutral colour representation, and the blue mirror coating will reflect blue light away from the eye. In a bright ocean environment where blue is everywhere, this helps to balance the overall light spectrum and provides greater visual acuity.
Similarly, a red mirror coating will reflect red light, and a green mirror coating will reflect green light.  So you should choose a mirror coating that is suitable for the environment that you are most likely to wear your sunglasses in.
There are other benefits of mirror coatings. Importantly for watersports , they reduce glare (in addition to the reduction of glare gained from polarisation), and this further reduces eye strain.
We set out a selection of choices for different weather and water conditions below:
TYPHOON - BRIGHT CONDITIONS
POLARIZED
• Lens Material: Nylon
• Base Lens Colour: Smoke
• Mirror Coating: Methane
• Anti-fog Coating:  No
• Light Transmission: 11.1% (Category 3)
• Weather Conditions: Bright / Sunny
• Contrast: Standard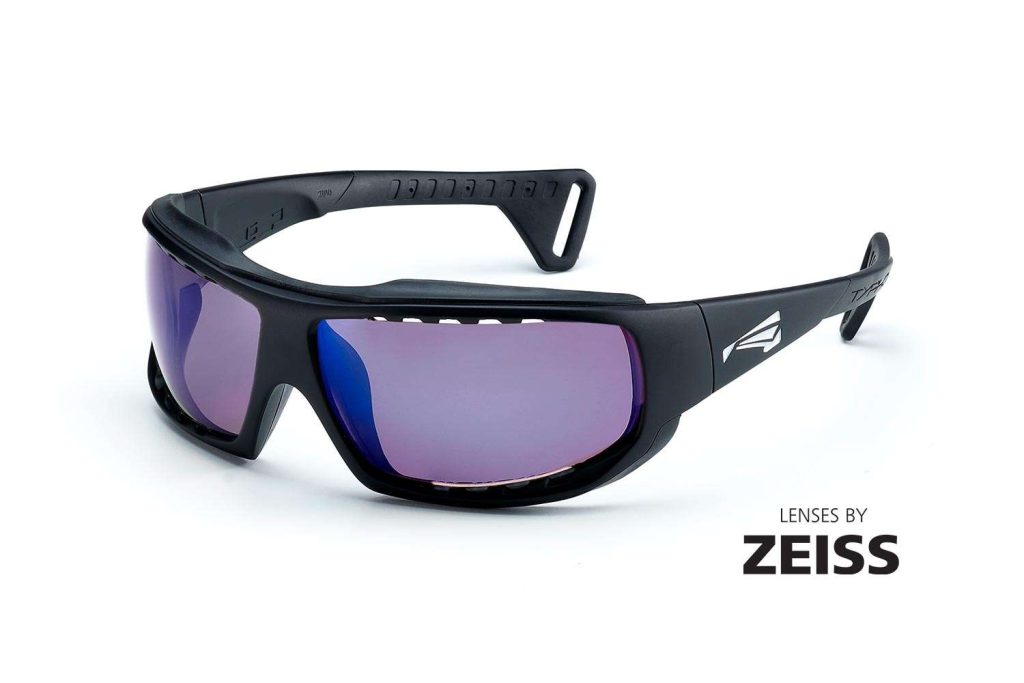 POLARIZED
• Lens Material: Nylon
• Base Lens Colour: Violet
• Mirror Coating: Pacific Blue
• Anti-fog Coating:  No
• Light Transmission: 9.95% (Category 3)
• Weather Conditions: Sunny / Bright
• Contrast: Enhanced
TYPHOON - VARIABLE CONDITIONS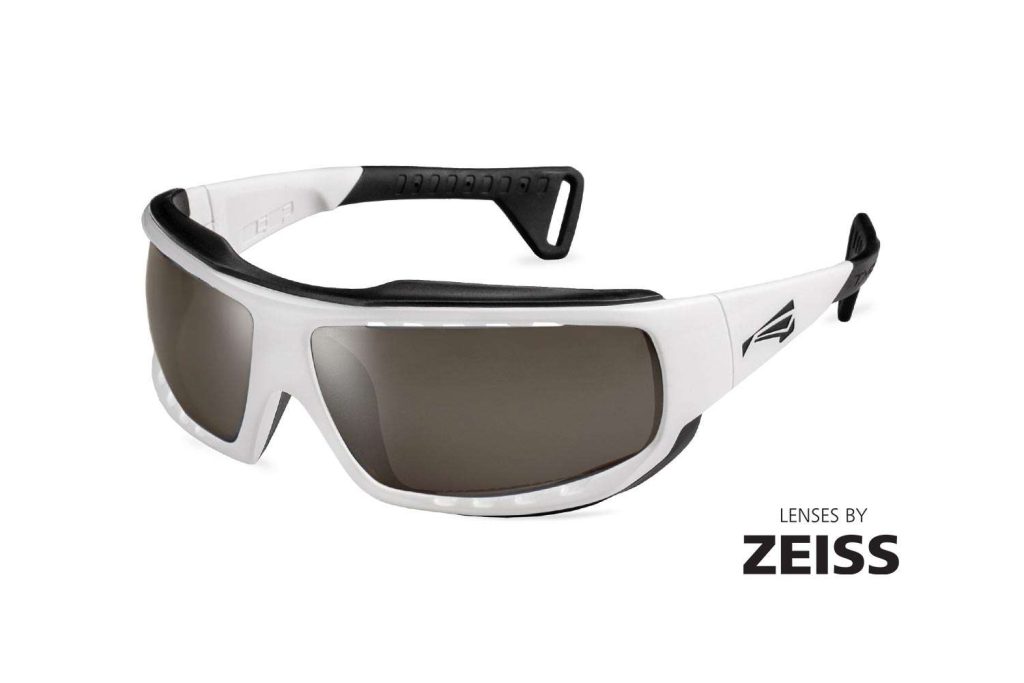 POLARIZED
• Lens Material: Nylon
• Base Lens Colour: Brown
• Mirror Coating: Methane
• Anti-fog Coating:  No
• Light Transmission: 15.6% (Category 3)
• Weather Conditions: Cloudy / Variable
• Contrast: Standard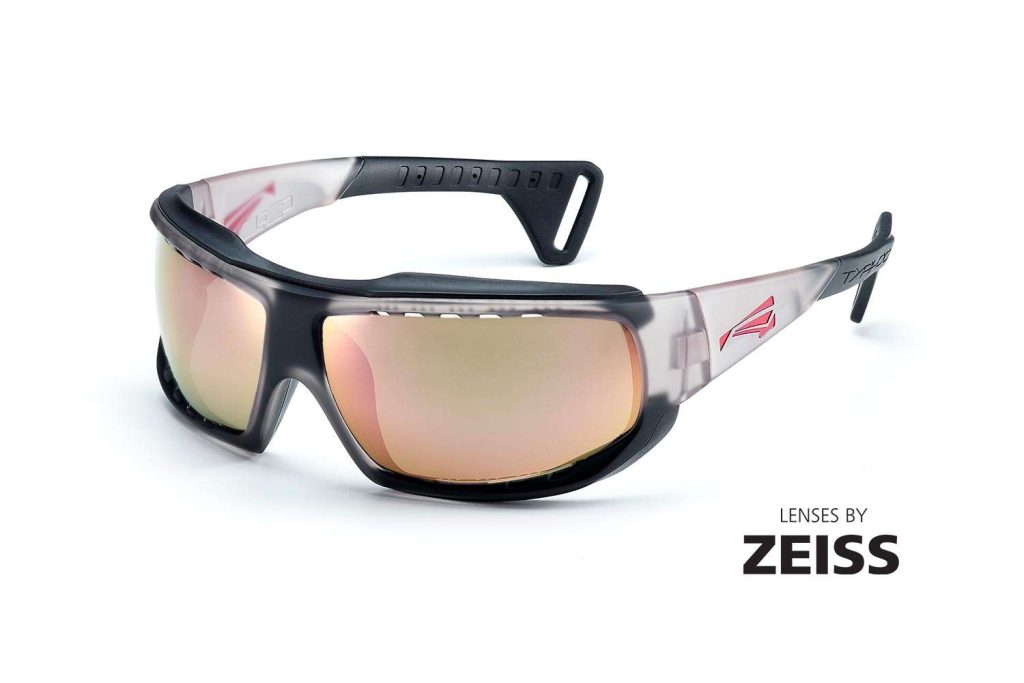 POLARIZED
• Lens Material: Nylon
• Base Lens Colour: Brown
• Mirror Coating: Rose Gold
• Anti-fog Coating:  No
• Light Transmission: 14.2% (Category 3)
• Weather Conditions: Cloudy / Variable
• Contrast: Standard
SURGE - BRIGHT CONDITIONS
POLARIZED
• Lens Material: Polycarbonate
• Base Lens Colour: Rose
• Mirror Coating: Ice Blue
• Hydro / Oleo Coating: Both sides
• Anti-fog coating: No 
• Light Transmission: 8.35% (Category 3)
• Suitable For: Very Bright
• Contrast: Enhanced
POLARIZED
• Lens Material: Polycarbonate
• Base Lens Colour: Smoke
• Mirror Coating: None
• Hydro / Oleo Coating: Both sides
• Anti-fog coating: No
• Light Transmission: 10% (Category 3)
• Suitable For: Bright Light
• Contrast: Standard
SURGE - VARIABLE CONDITIONS
POLARIZED
• Lens Material: Polycarbonate
• Base Lens Colour: Smoke
• Mirror Coating: Multilayer Red
• Hydro / Oleo Coating: Both sides
• Anti-fog coating: No
• Light Transmission: 17.4% (Category 3)
• Suitable For: Variable / Cloudy
• Contrast: Standard
POLARIZED
• Lens Material: Polycarbonate
• Base Lens Colour: Brown
• Mirror Coating: None
• Hydro / Oleo Coating: Both sides
• Anti-fog coating: No
• Light Transmission: 10% (Category 3)
• Suitable For: Bright / Variable
• Contrast: Standard