LiP's photochromic RX lenses may be just what you've been looking for
And we are offering our regular readers a special 4th July discount to get your hands on some. Read on for more details…
One of the issues with fixed tint prescription sunglasses is what do you do when the clouds roll in and the light levels drop so much that it is difficult to clearly see where you are going?
You can continue riding in the hope that conditions improve or perhaps head back to shore to switch out for another pair of sunglasses with a higher transmission rate. In the latter case, despite the expense and hassle of carrying two pairs of prescription sunglasses around with you), you might get back on the water only to notice that the dark clouds are moving away, and now your field of vision is too bright. Back to the shore again….
LiP's photochromic lenses (with the added option for polarization and mirror coatings) are a great solution to this problem. We offer a photochromic lens solution for every kind of lighting situation.
Here are our most popular photochromic lens options along with their transmission rates. You can see the full range of options here
Medium/Dark Grey TV: 40%/12%
Best for bright conditions
Medium/Dark Brown TV: 42%/20%
Best for variable conditions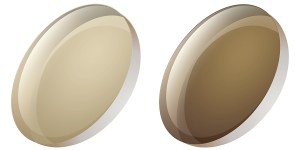 "Night & Day" – TV: 77%/18%
Maximum functionality
Choose a photochromic lens base colour according to your local conditions. The medium to dark brown lenses will give additional pop to colours, while the medium to dark grey will be true to colours and work best in the brightest conditions. If you choose Night and Day, you'll be able to wear your RX watershades all day – wherever you are and whatever the conditions.
Our photochromic lenses have an end to end transition time of 69 seconds. So if conditions change while you are on on the water, you can feel assured that your lenses will respond quickly and keep you focused on what you are doing.
If you want to reduce glare as much as possible, add a polarised coating and finish off with a silver mirror, blue mirror or red mirror coating. Now you're styling…