PROTECTION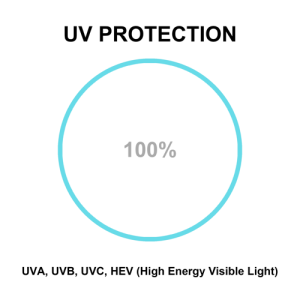 Sunglasses are not just fashion accessories – they also protect your eyes from the sun's harmful radiation. The damage UV rays cause accumulates over a lifetime and can lead to irreversible consequences. High quality sunglasses offer optimal protection, eliminating those risks . Like sunscreen, they should be worn as soon as you are outside, even on hazy days as clouds do not block UV rays.
LENS QUALITY
The lenses are the heart of any sunglasses and here we make no compromises, cooperating only with the best manufacturers. All of our lenses are developed and produced under rigorous quality control and applied with a variety of special performance coatings in order to enhance visibility, repel water & dirt, and increase scratch resistance and durability. Mirror finishes available include Standard, Gradient, Flash and Multi-layer, creating a variety of effects and a stylish look.
All LiP sunglasses comply with the following standards:
European Standard EN ISO 12312-1:2013
American National Standard ANSI Z80.3-2015
Australian/New Zealand Standard AS/NZS 1067:2003
ANSI Z87.1-2003 (High Mass Impact Test)
TYPHOON and ZEISS
The TYPHOON is fitted with de-centered injected polycarbonate (PC) polarized lenses by ZEISS, featuring a hydrophobic and oleophobic coating, high impact resistance, superior scratch resistance and elimination of glare for improved vision especially on water and snow.
HYDROPHOBIC TRI-PEL COATING
Created for watersports and used in the TYPHOON, this unique production process from Carl Zeiss Vision combines the outstanding, easy to clean, oil and water repellent features of the Ri-Pel coating, together with the technical performance of the Tri-Flection patented mirror series. This compound surface also offers an exceptionally long-lasting anti-smudge mirror treatment, superior to standard lenses which are often characterized by fragility and tendency to dirt marks.

POLARIZATION
Polarized lenses strongly reduce glare by filtering out the reflected sunlight that bounces off horizontal surfaces like water or roads. While regular sunglasses only reduce the amount of light reaching the eye, polarized lenses will provide enhanced vision for unmatched clarity and comfort, especially when used on water.
GRILAMID® TR90 FRAMES
For all our Urban Style frames we use GRILAMID® TR90, a high performance polymer developed and produced by the Swiss EMS Group to meet the special requirements of the eyewear industry. TR90 is incredibly durable and strong while at the same time being very flexible and lightweight. Contouring nicely to your head without adding pressure makes them exceptionally comfortable to wear. Being virtually unbreakable will ease your mind when following your active, outdoor lifestyle.
The TYPHOONS's frame is made out of GRILAMID® TR90 NZZ, providing the same features as TR90 but with increased impact strength, an important factor for sports glasses to protect your eyes even in the harshest wipeouts.